The day of your photography session is rapidly approaching and no doubt, you are beginning the planning stages of what to wear!  Outfit choices are important, since they not only reflect the  personality of you and/or your family, but they also help to contribute to the overall beauty of the photo!  No fear though, outfit planning can be fun and exciting and doesn't have to be nerve-wracking or overwhelming.
Here are a few things to consider:
1) Choose clothing that you are comfortable in and that generally reflects your personality/style.  If you tend to be more casual or outdoorsy, don't choose formal clothing for your photo shoot ..as you will feel uncomfortable and awkward in it!  You generally want to show who you REALLY are in your photos.. and the way you feel in your clothing will shine through in the ease with which you and your family interact with the photographer and each other.
2)  Avoid exact 'matching' outfits if you can.  Personalities, interest and depth can be lost in a sea of white shirts and jeans.  No doubt, your family (like mine) is full of life and personality, so choose colors, patterns, textures that reflect that!  The photos will have much more interest and personality when they include outfits that compliment and coordinate (rather than replicate).
3)  Choose a color palette … it can be something like 'navy/white/gray' or 'plum/gold/rust' …. or even be as broad as 'brights' , 'neutrals' or 'pastels' and go from there!  Of course the season of your photos also is a factor!
4)  Don't be afraid of color!  Especially with a more neutral pallet, even adding a pop of color with accessories (hats, headbands, tights, scarves) adds a lot of interest to the photo!
5)  Build around a piece you love.  I like to start outfit selections by picking an item I KNOW I want included in our photos (because of color and/or pattern) and then finding pieces that compliment it!
6)  Use Pinterest for inspiration!  To help you get started, I've started putting together a board which includes some great color combinations to get the wheels turning!  Sometimes it helps to see different color combinations so you can begin the process of getting your outfits together!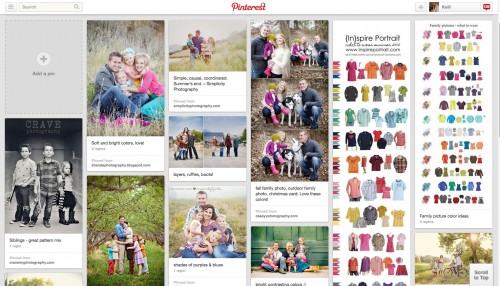 http://www.pinterest.com/kellijoy/picture-perfect-outfits/
I hope this is helpful as you plan for your photo session!  I am looking forward to capturing lots of moments with you and your family!